Rundtur Ruggå (Viewpoint Ruggå)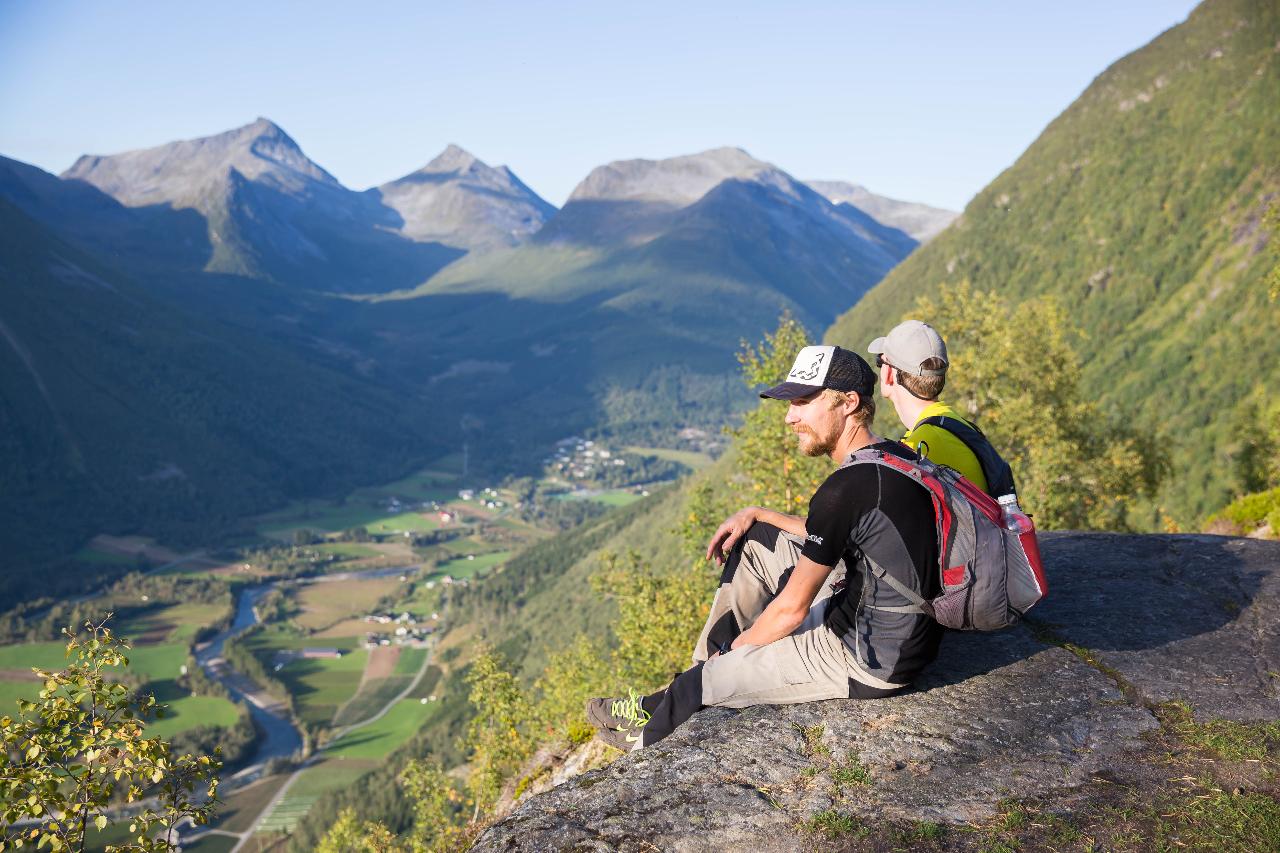 Duration: 4 Hours
Location: VALLDAL, Møre og Romsdal
Dette er ein lett tur gjennom
kulturlandskap med gode utsiktpunkt mot Valldalen, Tafjorden og
Norddalsfjorden. Vi stoppar ved Ruggå, den syngande steinen, som også har
nydeleg utsikt mot Valldalen og fjella rundt. Her nyt vi ein god lunsj, før vi
fortsetter på rundturen, med fleire utsiktspunkt utover Tafjorden og
Norddalsfjorden, og fjella ikring.
Lunsjpakke med fokus på lokale råvarer av høy kvalitet inkludert.
Oppmøte ved våra kontor.
Antall
Vi må ha minst 2 påmeldte for å arrangere tur. Du kan booke tur selv om dere er færre enn 2 personer, men turen blir ikke bekreftet før det er 2 eller flere deltakere påmeldt. Dette vil bli informert om på e-post så snart minimumsantallet er nådd. Kjøpesum vil ikke bli trukket fra kortet ditt før turen er bekreftet.
Dersom status på din ordre er PENDING betyr det at vi venter på flere påmeldinger før turen bekreftes. Om status på din ordre er CONFIRMED betyr det at vi har nok deltakere og at turen er bekreftet.
Alternative datoer
Om du har mulighet til å delta på rafting andre dager en booket dato, vennligst beskriv dette i feltet Alterative datoer ved bestilling. Da blir det enklere for oss å sette sammen små grupper til en tur dersom det blir nødvendig.
Avlysning
Om turen skulle bli avlyst av Valldal Naturopplevingar, enten det er grunnet for få deltakere eller at vær gjør det uforsvarlig å gjennomføre turen vil beløpet for bestillingen bli refundert i sin helhet.
Pris
Pris er avhengig av antall personer i gruppen. Velg antall personer i boksen for din gruppestørrelse og la de andre stå på 0.
English
A guided tour to viewpoint Ruggå and the singing rock. Beautiful views to fjords and mountains!
This is an easy hike which brings you trough a varied landscape. This will take us trough a traditional Norwegian farmland and open forests with multiple viewpoints. We will stop at Ruggå, "the singing rock", enjoy the view and a delicious lunch. On the way back we will explore a new way and even more viewpoints and magnificent nature.
Lunch-pack based on high quality local food included.
Meet at our office.

Minimum Participants
We must have minimum 2 participants to arrange a trip. It is possible to book trips with less than 2 people, but trips will not be confirmed until there are 2 participants. Email confirmation will be sent as soon as the minimum number is reached. The transaction will not be completed until the trip is confirmed.
If the status of your order is PENDING, it means we are waiting for more entries before confirming the trip. If the status of your order is CONFIRMED we have enough participants and the trip is confirmed.
Alternative dates
If you wish other days than our prescheduled trips, please let us know when booking. We gladly combine small groups and work with your party to make a perfect trip for you.
Cancellation
If trips are cancelled by Valldal Naturopplevingar , either due to extreme weather or too few participants, the cost of the trip will be refunded in full.
Price
Prices depend on the size of your group. Choose the number of participants in the box for your group, and leave the others at 0.