Topptur til Mefjellet (Snowshoe hike to Peak Mefjellet)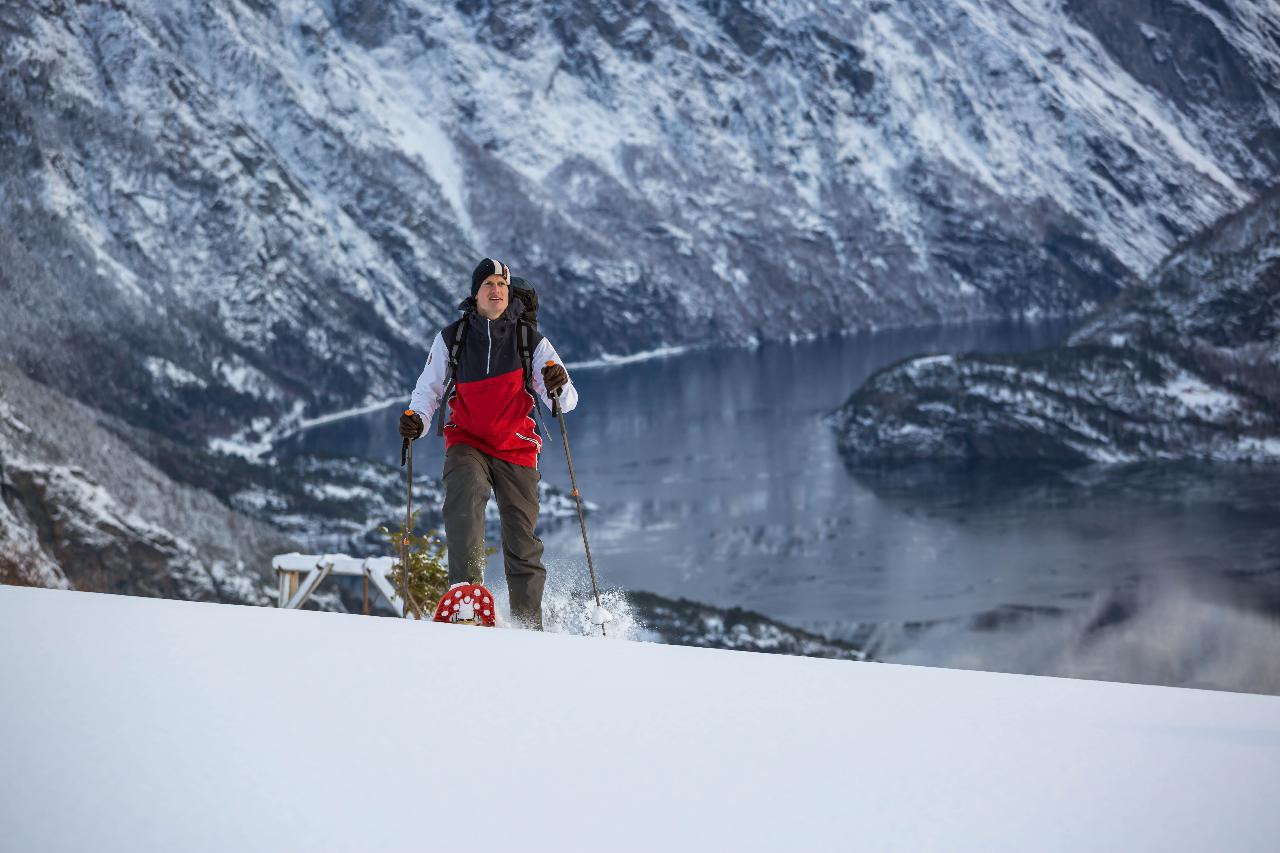 Duration: 8 Hours
Location: Valldal, Møre og Romsdal
Bli med å bestig Mefjellet 1100 moh. og opplev et vinterdekt fjordlandskap med utsikt til fjord og fjell. Mefjellet er den ultimate turen for den som ønsker en lang tur på truger og samtidig sett pris spektakulær fjordutsikt.

Alle våre guida trugeturar er i hovudsak private turar der du og din gruppe får ein eigen guide. Dette for å sørgje for den beste opplevinga for deg.
Antall

Du bookar ein privat guide, derfor har vi ikkje noko minste antall. Kjøpesum vil ikkje bli trukket fra kortet ditt før turen er bekreftet.
Dersom status på din ordre er PENDING betyr det at turen ikkje er bekrefta. Om status på din ordre er CONFIRMED betyr det at turen er bekrefta.
Alternative datoer
Om du har moglegheit til å delta på andre dager enn booka dato, vennligst skriv dette i feltet "Alterative datoar" ved bestilling.
Avlysning
Om turen skulle bli avlyst av Valldal Naturopplevingar pga. av at vær eller snøforhold gjer det uforsvarleg å gjennomføre turen, vil beløpet for bestillinga bli refundert i si heilheit.
Pris
Pris er avhengig av antall personer i gruppen. Velg antall personer i boksen for din gruppestørrelse og la de andre stå på 0.
English
Would you like to climb a Norwegian mountain during winter? Then this snowshoe hike to Peak Mefjellet (1100 meters / 3609 feet) is the perfect mountain! This is a long, but beautiful hike where you will experience the best mountain and fjord view possible in this area.

All our snowhoeing tours are private and you and your group will have your own guide. This is to ensure you best experience possible!
Minimum Participants
As you are booking a private guide, we have no minimum participants on this trip.
If the status of your order is PENDING, it means that the trip is not confirmed. If the status of your order is CONFIRMED your trip is confirmed.

Alternative dates
If you wish other days than our prescheduled trips, please let us know when booking.
Cancellation
If trips are cancelled by Valldal Naturopplevingar , either due to extreme weather or snow conditions, the cost of the trip will be refunded in full.
Price
Prices depend on the size of your group. Choose the number of participants in the box for your group, and leave the others at 0.